An incredible arts and music venue in the

heart of the Canadian Badlands.
 2019 Badlands Amphitheatre
Canada's largest outdoor stage
Get your tickets to
ROSEBUD CHAMBER MUSIC (August 8)
WALK OFF THE EARTH (AUGUST 24)
 BLUES AND BBQ (SEPT 14)  available AUGUST 
JANN ARDEN (AUGUST 10) is SOLD OUT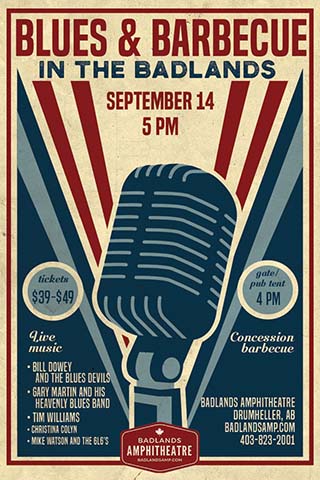 BLUES & BARBECUE
SEPTEMBER 14
5 PM
BADLANDS AMPHITHEATRE
5 Great Bands
Concession Barbecue
Pub Tent 
• BILL DOWEY AND THE BLUES DEVILS
• GARY MARTIN AND HIS HEAVENLY BLUES BAND
• TIM WILLIAMS
• CHRISTINA COLYN
• MIKE WATSON AND THE 6L6'S
JANN ARDEN / AUGUST 10
SOLD OUT
JANN ARDEN is coming to the Badlands Amphitheatre on August 10th.
This event is sold out. If you would like to be put on a waiting list for tickets, please click below.
And there's no one like Canadian Icon Jann Arden.
Opening Act: Nuela Charles
It's going to be a great night!
WALK OFF THE EARTH
With special guests
The Static Shift
AUGUST 24, 2019
Canadian superstars and international sensation Walk Off The Earth makes their first appearance at the Badlands Amphitheatre, Alberta's spectacular outdoor live concert venue.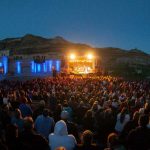 CONCERT PRESALES, GIVEAWAYS, CONTESTS, AND SPECIAL DISCOUNTS AVAILABLE IN OUR ONLINE BADLANDS AMP NEWSLETTER.