LIGHTFEST
FIREWORKS IN THE BADLANDS



BADLANDS AMPHITHEATRE
DRUMHELLER, AB
SITE OPENS: 7 PM
FIREWORKS SHOW: 8:30 PM
……………………..
TICKETS:
ADULTS: $15
YOUTH (10 -17 years): $10 
CHILDREN (0-9 years): FREE
Parking $3 / Ticket Fee $3 for each paid ticket*
*Drumheller, AB residents – save the parking and ticket fees by calling 403-826-2102.
LIGHTFEST:

FIREWORKS IN THE BADLANDS
JOIN THE FESTIVAL OF LIGHTS IN DOWNTOWN DRUMHELLER
AND THEN EXPERIENCE AN UNFORGETTABLE NIGHT
AT THE BADLANDS AMP
On November 16, 2019, GLOBALFEST – the makers of Alberta's most explosive festival – will bring winter fireworks to the Badlands Amphitheatre. 
Experience something truly amazing in the Canadian Badlands. Bring your family and friends for an evening of sound and lights in the spectacular Badlands Amphitheatre.
First, join the Festival of Lights from 3 PM to 7 PM for a free family-friendly event in the heart of Downtown Drumheller.
The Festival of Lights features live entertainment, over 15 sponsored fire pits with treats, late night shopping deals, photos with Santa & Mrs. Claus, and fun activities such as wagon rides and cookie decorating. 
Then head to the Badlands Amphitheatre for LIGHTFEST: Fireworks in the Badlands.
LIGHTFEST is a ticketed event: 
Adults (18 years and over): $15
Youth (10 – 17 years): $10
Children (0 – 9 years): Free
Parking is $3 in advance or $5 at the gate. Ticket fee of $3 per ticket.
Drumheller residents! Until October 31st,  save the parking fee and the ticket fee by purchasing your tickets by phone.
Call 403-826-2102 by October 31st for tickets with complimentary parking and ticket fees. 
Each person attending requires a ticket to enter. Get your tickets online at tickets.badlandsamp.com or by calling 403-826-2102. This event is festival seating. 
 LIGHTFEST Schedule:

7:00 PM – Gates and Parking Opens
7:00 PM – Concession, Music and preshow activities
8:30 PM – LIGHTFEST: Fireworks in the Badlands with GlobalFest
9:00 PM – End of Events
On Saturday November 16, see you at the  Festival of Lights in Downtown Drumheller and then at the Badlands Amp for LIGHTFEST: Fireworks in the Badlands!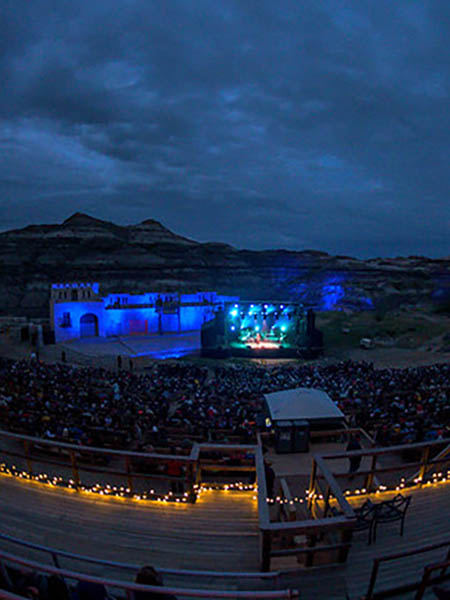 There's nothing like an event at the Badlands Amp. Our natural amphitheatre has great sight lines, clear sound, and incredible views of our surrounding hills all under a big Alberta Sky.