2023 Roots, Blues & Barbecue
September 9, 2023 – 6th year
Badlands Amphitheatre – Drumheller, Alberta
Hours of great music and food surrounded by the hills of the Canadian Badlands
ARTIST LINEUP:
Sue Foley • Ndidi 0• The Trade-Offs
Musical Host: Marcus Trummer
Big Tent Band: Charlie Jacobson
Tickets: $59 to $69
$7.50 ticket fee
Parking $7 in advance /$10 at gate
———————–
Pre-order your Barbecue Dinner in advance
$22 + GST
3 Texas style barbecue pork ribs cooked in our smoker
2 Honey Garlic chicken skewers
1 side: Chef Ranay's baked beans
1 side: Hand Cut homestyle coleslaw
4 Mini garlic flatbread medallions
1 Bottle of Water
Pre-order guarantees your food order is available as barbecue items are limited.
You can pick up your food order anytime from 4:30 to 8 PM in the Badlands Arts Centre.
This year we start with music in the Big Tent so you can enjoy your meal and our opening artist, Charlie Jacobson.
BUY TICKETS
PRE-ORDER BBQ DINNER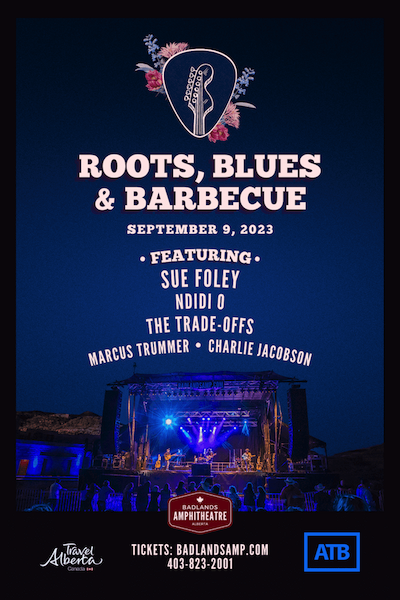 $59 – $69
A $7.50 Ticket Fee and GST will be applied.
Parking is available for $7 in advance and $10 at the door.
Pre-order Barbecue dinner is available in advance. 
September 9:
4:30 PM: Site gate/ pub tent open
5:00 PM: Pub service, concession, pre-purchased meal service
5:00 PM: Music begins in the Big Tent – Charlie Jacobson
6:00 PM:  Badlands Amphitheatre
Big Tent: Charlie Jacobson
Musical Host: Marcus Trummer
The Trade-Offs
Ndidi O
Sue Foley
10:00 PM: Event end.
The performance goes rain or shine. Tickets are non-refundable.

Cancelled performance, due to weather or other circumstances, will result in a non-profit tax receipt to the purchaser, for the ticket price. 
Additional concession menu and pub service is available on site. 
MARCUS TRUMMER – MUSICAL HOST: Marcus Trummer weaves southern soul, blues, and roots rock into a modern sound steeped in tradition that Trummer calls "rock and soul". Dubbed "a precocious guitarist whose vocals possess a wise-beyond-his-years weariness" by the Calgary Herald, Trummer has built a reputation as a compelling live performer on the back of playing numerous shows. Trummer's songwriting ability has also earned him recognition with his latest release, Running on My Own, receiving Blues Recording of the Year at the 2022 YYC Music Awards. With a full-length album on the way for 2023, Trummer continues to establish his place as a notable emerging Canadian artist.
THE TRADE OFFS– Arctic Soul is distinguished by the deep brooding voice of Josh Qaumariaq and soulful background of Jeff Maurice set against blues and rock and roll sounds echoing from the depth of the Northern tundra. In a blend of Inuktitut and English lyrics, The Trade-Offs sing the Arctic blues about universal themes of light and darkness and closeness and isolation. While the band is a staples of the Iqaluit music scene, they have played across Canada on big and small stages alike, including main stage performances at major festivals and at the iconic Cameron House in Toronto. Be prepared to fall in love with Nunavut's Arctic Soul.
 NDIDI O – Ndidi Onukwulu known as Ndidi O is a two time Juno nominated and WCMA blues artist of the year that has to date released five albums under her solo moniker and multiple singles as part of her trip hop duo BOGA. She has toured nationally and internationally playing festivals and concert halls. Her songs have been featured in numerous television programs and commercial campaigns such as for GAP, Orange is the New Black, CW's The Flash, Hulu's Cloak & Dagger and most recently Netflix's "Self Made: Inspired by the life of Madame C.J Walker" starring Octavia Spencer.
Hailing from the wilds of British Columbia she found her voice in the "open mic '" scene in New York, discovered her sound in the heart of Toronto's blues and folk scene, fine tuned her live show across Europe and has now finally settled for the moment back on the West Coast. 
"This country's finest blues guitarist" – Globe And Mail
SUE FOLEY has been playing guitar since she was 13 years old. Like so many other musicians, it was the music of the early Rolling Stones that inducted her into the world of the blues. 
At the heart of it all has always been the guitar. It's the sound of Sue Foley's soul that comes out of the six strings, and it's no accident that her new album PINKY'S BLUES, is named after her pink paisley Fender Telecaster electric guitar that has been such a major part of Foley's life for all these years.
Foley is a Juno award winner and the 2022 Maple Blues Awards Guitarist of the Year and Entertainer of the Year.
If you've been to Roots, Blues & Barbecue before, you know that the music is non-stop. This year we start with Charlie Jacobson in the Big Tent at 5 PM while you enjoy some barbecue with friends and family.  Then your musical host, Marcus Trummer keeps the celebration going throughout the evening as the sun goes down and the stars come out. It all makes for an unforgettable evening of great music, food, and community under a great big Alberta sky.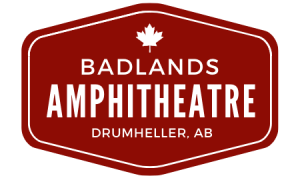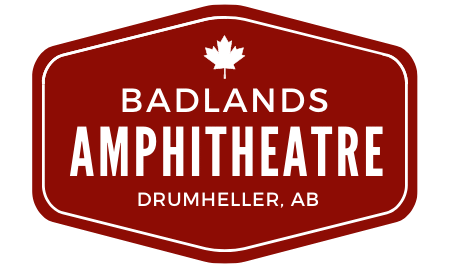 Roots, Blues & Barbecue takes place at one of Canada's most spectacular venues – the Badlands Amphitheatre located in Drumheller, Alberta (1.5 hours from Calgary). Surrounded by the ancient hills of the Canadian Badlands, this incredible place has clear sight lines and superior acoustics.  The Badlands Amphitheatre is a non-profit arts and culture society operating from the values of community, creation, and celebration.
Past Roots, Blues & Barbecue artists have included: Matt Andersen, Blue Moon Marquee, Bebe Buckskin, Celeigh Cardinal, Bill Dowey  &the Blues Devils,  Angelique Francis, The Hello Darlins, Gary Martin & His Heavenly Blues Band, Samantha Martin & Delta Sugar, Spencer Mackenzie,  Ollee Owens,  Shakura S'Aida, Dawn Tyler Watson, Mike Watson & The 6L6's,  Tim Williams