#greatbigdream
Building the Badlands Arts Centre
For over 30 years, a small group of dedicated staff, crew, and volunteers have been working to serve their community by offering theatre, arts, music, and events at the Badlands Amphitheatre – home of the Badlands Passion Play and Canada's largest outdoor stage.
The dream continues as we are now building the Badlands Arts Centre – a new 8,000 square foot indoor space with a studio performance space, professional kitchen, and more rehearsal and event space.
rehearsal space – professional kitchen – indoor event space – studio performance space – accessibility  and comfort for our guests
year-round experiences in the heart of the Canadian Badlands
We're adding 8000 square feet of indoor space to the Badlands Amphitheatre.
Thanks to a significant federal government grant awarded in 2019 (and one of only four awarded in Western Canada), 8,000 square foot Arts Centre is now under construction adjacent to our current production centre  (built in 2001). 
The ground floor spaces of the existing Production Centre will be retrofitted to accommodate a new event area, a commercial kitchen, and new public washrooms.
This will add an additional 3,000 square feet of renovations to the new Badlands Art Centre for a total of 8,000 square feet of new construction and renovations. 
Everything In One Place – Year Round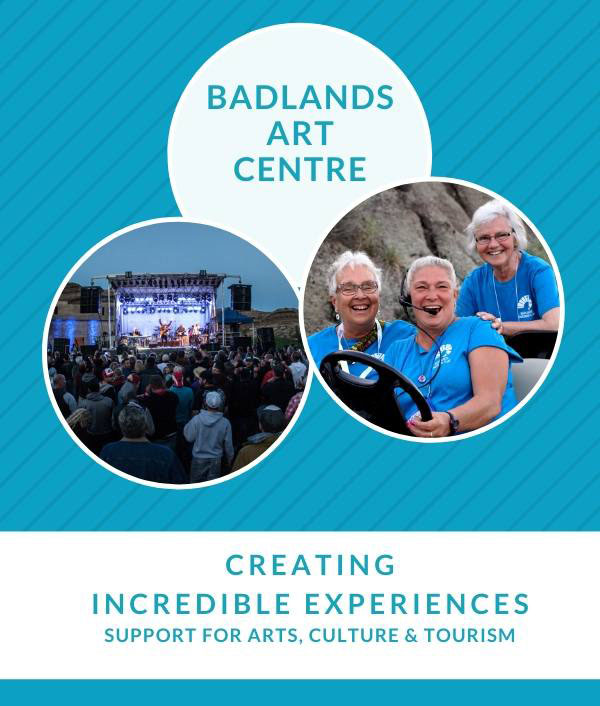 For our guests
The Badlands Arts Centre allows us to provide our guests with more comfort, accessibility, and culinary options with the addition of more washrooms, a professional kitchen, and indoor space available for year-round events.
You will be able to enjoy smaller concerts, theatre productions, arts, and arts education events along with the Badlands Passion Play, the Canadian Icons Series, Roots Blues & Barbecue, and LightFest: Fireworks in the Badlands.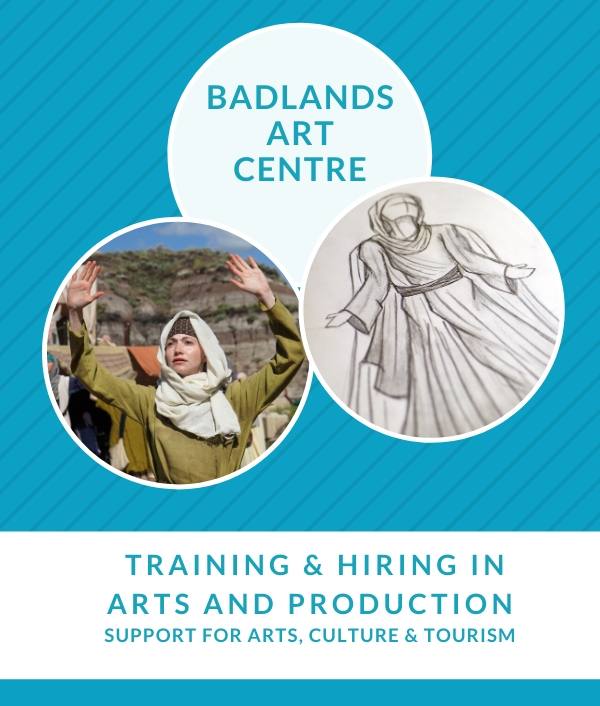 For our actors and arts professionals
The Badlands Arts Centre give us additional indoor rehearsal and performance space. A 200 seat studio theatre on the second floor of the arts centre is in addition to renovated and new event space on the first floor which will be used for training, workshops, events, and exhibitions.
The Badlands Amphitheatre employs and trains production and event staff along with working with hundreds of volunteers for multiple events each year.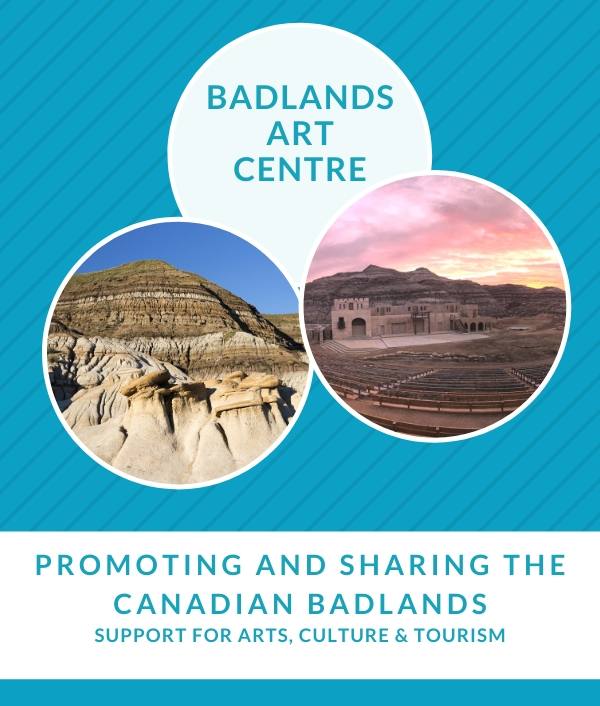 For our community
 It's well known that arts and culture contribute to a community's well being while providing essential life and employment skills for those involved. 
The Badlands Amphitheatre staff, crew, and volunteers work hard to promote arts, culture, and tourism in the Canadian Badlands. We provide memorable experiences which provide millions of dollars of economic benefit to our community each year.
Progress Report
Badlands Arts Centre & Studio Space:
the construction of 2 storeys of event and performance space – complete
in floor heating system – 2 storeys – complete
18 foot ceiling studio space with control booth and catwalk – complete
wiring the building for production sound and light – complete
12 foot wide wraparound decks – 1800 square feet of decks – with views of the Badlands
in progress – Barbecue Kitchen and prep kitchen and food service area framing
in progress – ordering woodfired grill, woodfired smoker, gas grill, deep fat fryer, freezers, coolers, and yes, a kitchen sink (actually five of  them)
 You can help  finish the Badlands Arts Centre and Studio Space by calling 403-823-2001 or by clicking the button below.
The Badlands Amp Experience
"Absolutely mystical venue.
Such a transcending experience. "
"We were amazed with this amphitheatre—we've never seen such a spectacular stage and area for performances."
"This is one of the most – if not the most – beautiful places I have played in my career."