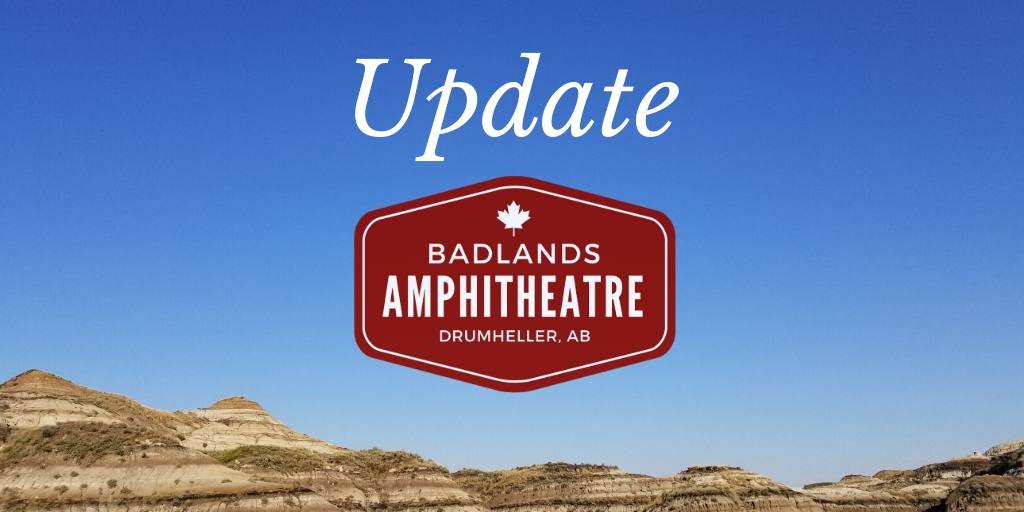 . 
JUNE 5, 2020
The Latest:
Hello everyone,
We are still monitoring the situation in Alberta and are aware of the current restrictions and phased openings in our province. Our next event, the Canadian Icons Concert is scheduled for August 29 which is more than 2.5 months from now. Our Board of Directors and core staff  are monitoring the situation in Alberta for a while longer in hopes that we will see relaxed restrictions towards the Fall when our next events occur. We will keep you updated on any postponements or other decisions that are made around our events as soon as we have more information.
With hope, The Badlands Amphitheatre team. 
——
(April 22, 2020)
27th Season of the Badlands Passion Play moved to July 2-18, 2021
Last Saturday, our Board of Directors made the difficult decision to postpone the 27th Season of the Badlands Passion Play to July 2-18, 2021.
We are disappointed that we won't have the chance to bring our community of theatre crew, actors, volunteers and guests together this year to perform the story of the life of Christ on Canada's largest outdoor stage.
We are encouraged by the overwhelming response to our requests for guidance through our community surveys and conversations. We are so grateful for all of the kind remarks that you sent our way. We will forward those to our volunteer cast who have worked on the new script written by Royal Sproule. We will also send these comments to our small staff who works tirelessly to keep our non-profit venue moving forward in service to our community.
We are hoping that our upcoming events including our Canadian Icons Concert will go as planned. You can keep in touch with us through our email newsletter, by email or phone, on our social channels and through this update page.
Our core staff is working very hard under extraordinary circumstances so we appreciate your ongoing patience and support.
We have contacted all of our 2020 Badlands Passion Play ticket holders. Please feel free to contact our Box Office at info@badlandsamp.com or 403-823-2001 for more information.
With hope,
Your Badlands Amphitheatre & Badlands Passion Play team
BadlandsAmp.com
——-
(April 17 2020) We have sent out a survey to our email list in order to find out how many people would be interested in attending the Badlands Passion Play in July. This will help our Board of Directors judge whether there will enough revenue in order to meet our pre-season and production financial requirements. We hope to make this decision in 2 weeks time.
As you may know, each year we have the opportunity to employ 26 contract staff including professional artists, interns, and students to produce the Badlands Passion Play. Our volunteer cast – each of whom costs up to $1700 to house, feed, schedule and care for during rehearsal weekends – includes up to 25 musicians and singers who are paid an honorarium.
In a regular production year, much of the pre-show and rehearsal costs are covered by our Winter and Spring ticket sales and donations.
This is an unusual time. This year those revenues have been upended by the current global crisis and economic conditions. The Badlands Passion Play is heading into its 27th season where our community has been impacted by challenging conditions. 
Some of you have been kind enough to donate to our Team Support Program where 100% of the funds go to the people currently keeping the Badlands Amphitheatre operating in the midst of diminished revenues. We thank you for that. If you would like to support the continued employment of the people of the Badlands Amphitheatre please select the Team Support Program at BadlandsAmp.com/donate.
——-
(March 2020) – Thank you for being a part of the community of the Badlands Amphitheatre and Badlands Passion Play. We would like you to know our current status during the current situation brought on by the COVID-19 outbreak.
The Badlands Amphitheatre and Badlands Passion Play created a site response team in February. We have been monitoring developments several times a day. Of course, the safety and health of our guests, employees, crew, and volunteers is our first priority as we work and prepare.
Here is what you should know about the 2020 season at the Badlands Amphitheatre: 
–  The Badlands Passion Play (July 2020) We are still working towards this production and will monitor the situation with an update in mid-April.
– Our site has been closed to the public since October of 2019 due to the ongoing construction of the new Badlands Art Centre. If you haven't seen the video or pictures of the ongoing progress you can visit badlandsamp.com/badlands-arts-centre.)
– We currently have a small crew working on the arts centre and preparing for the production season. The rest of our staff is working from their homes or their own locations.
– With guidance from our community and health leaders, we have increased our onsite cleaning protocols and briefed any on-site crew about preventative measures and proper hygiene including hand washing and surface cleaning.
– We will continue to monitor the situation in Alberta and follow recommendations from health officials in the coming days and weeks.
Together, let's take good care of ourselves by following the preventative guidance provided by the government and health organisations.
We love sharing the Badlands Amphitheatre and serving our community with our events. We will keep everyone updated and we'll share some of our photos from the progress we have made on the Badlands Arts Centre since the fall.
Take care of each other!