THE DEAD SOUTH
FEATURING SPECIAL GUESTS:
REUBEN AND THE DARK WITH BULLHORN SINGERS
AUGUST 12, 2023
BADLANDS AMPHITHEATRE
DRUMHELLER,  ALBERTA
Tickets: $49 to $79
On sale now
$8 ticket fee
Parking $7 in advance /$10 at gate.
*Win a Badlands Amphitheatre prize pack when you buy both back-to-back Great Big Weekend concert tickets
BUY TICKETS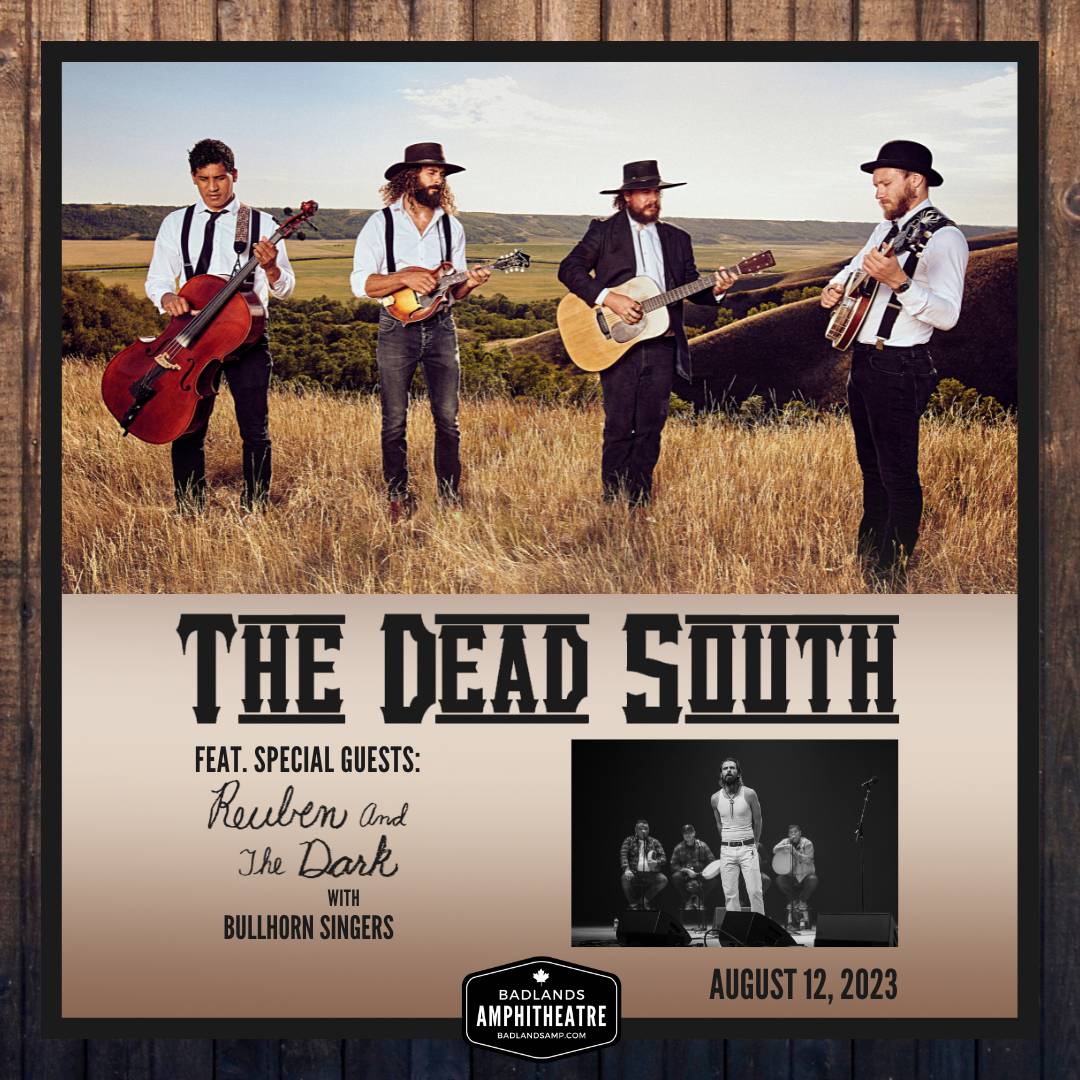 $49 – $79
An $8 Ticket Fee and GST will be applied.
Parking is available for $7 in advance and $10 at the door.
AUGUST 12, 2023
5:30 PM: Site/Pub/ Concession opens
6:30 PM: Amphitheatre gates open
7:30 PM: Reuben and the Dark with Bullhorn Singers
9:00 PM: The Dead South
10:30 PM: Event ends
The performance goes rain or shine. Tickets are non-refundable.
Cancelled performance, due to weather or other circumstances, will result in a non-profit tax receipt to the purchaser, for the ticket price. Online, limit of 10 tickets.
IN CONCERT:
THE DEAD SOUTH
FEATURING SPECIAL GUESTS:
REUBEN AND THE DARK 
WITH BULLHORN SINGERS
With banjo, mandolin, cello and guitar, The Dead South certainly look the part of bluegrass traditionalists. But, as outsiders to the bluegrass world by circumstances of geography, they're from the Canadian prairies, and by influences, equal parts finger-picking and punk, there are few comparisons to be made for the four-piece acoustic band.
With a global following sparked by YouTube, early success in German rock clubs and now, sold out shows at iconic venues in many continents, this is no country for old-time string purists.
A brotherhood first and foremost, formed in university and forged on the road, The Dead South are quite comfortable in their role as a total anomaly most everywhere they go. Their progressive, tightly-constructed approach to acoustic music that favours intricate solos and harmonies has brought two JUNO Awards for Traditional Album of the Year.
With their newly-released double EPs Easy Listening for Jerks, Parts I & II, The Dead South find their own balance between their punk origins and the bluegrass world of their sound. A strong statement about identity, influence and inspiration, the new EPs show a band stepping out into new musical territory while also staying true to themselves.
FEATURING SPECIAL GUESTS:
REUBEN AND THE DARK 
WITH BULLHORN SINGERS
Reuben and the Dark is the enrapturing alt folk-rock outfit led by singer-songwriter Reuben Bullock, whose music blends introspective lyrics with soaring instrumentals.
Reuben and the Dark's music has been featured in Breaking Bad, The Highwaymen, Game of Thrones, Handmaids Tale, and many more. The talented Calgary-born Joshua Tree-based singer-songwriter, skateboarder and carpenter has released four full lengths on Arts & Crafts and toured the world.
BullHorn Singers are from the Blood Tribe or Kainai which comprise one of the four nations of the Blackfoot Confederacy.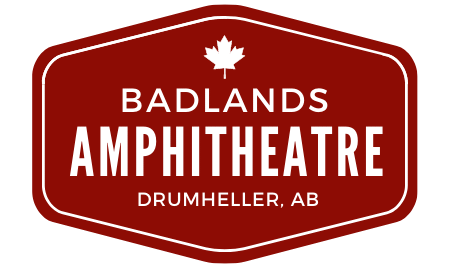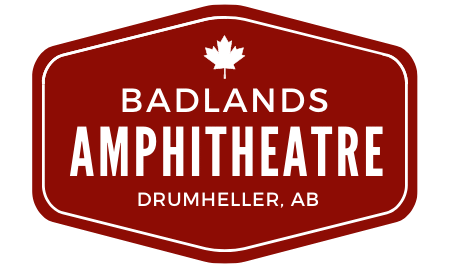 "an amazing place for a concert"
The Canadian Icons Concert Series & Great Big Weekend is held at one of Canada's most spectacular venues – the Badlands Amphitheatre located in Drumheller, Alberta (1.5 hours from Calgary). Surrounded by the ancient hills of the Canadian Badlands, this incredible place has clear sight lines and superior acoustics.  The Badlands Amphitheatre is a non-profit arts and culture society operating from the values of community, creation, and celebration.
Previous concerts: Tom Cochrane, Blue Rodeo, Randy Bachman, Corb Lund, Jann Arden, & Barenaked Ladies
The Badlands Amphitheatre also hosts Roots, Blues & Barbecue – a food and concert event held every September.