TICKETS
BOX OFFICE
403-823-2001
info@badlandsamp.com
Monday – Friday 9 am to 4 pm
2022: July 1 – 17
2023: TBA
CURRENT SPECIAL: $30 Tickets in the Upper Bowl – CODE 30for30
For a limited time, we are selling $30 tickets in the Upper Bowl (blue section) for any 2022 performance of the Badlands Passion Play.
Choose your seats in the blue section and when checking out, enter the code 30for30. 
FRIDAY
July 1:  6 PM
July 8: 6 PM
July 15: 6 PM
SATURDAY
July 2:  6 PM
July 9: 6 PM
July 16: 6 PM
 SUNDAY
July 3:  4 PM
July 10: 4 PM
July 17: 4 PM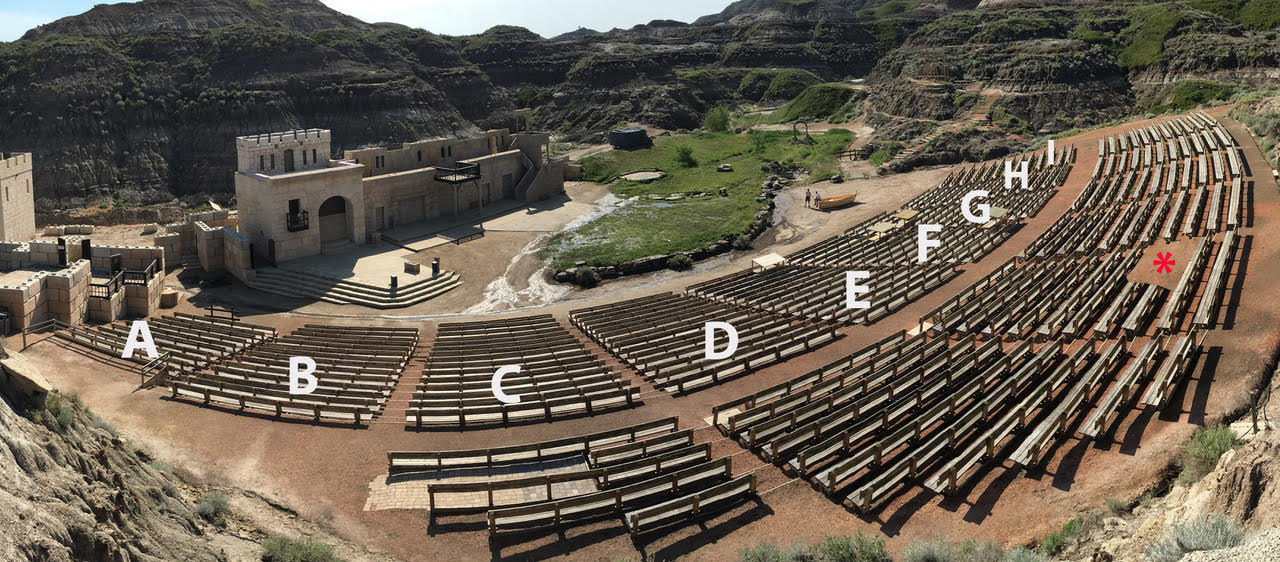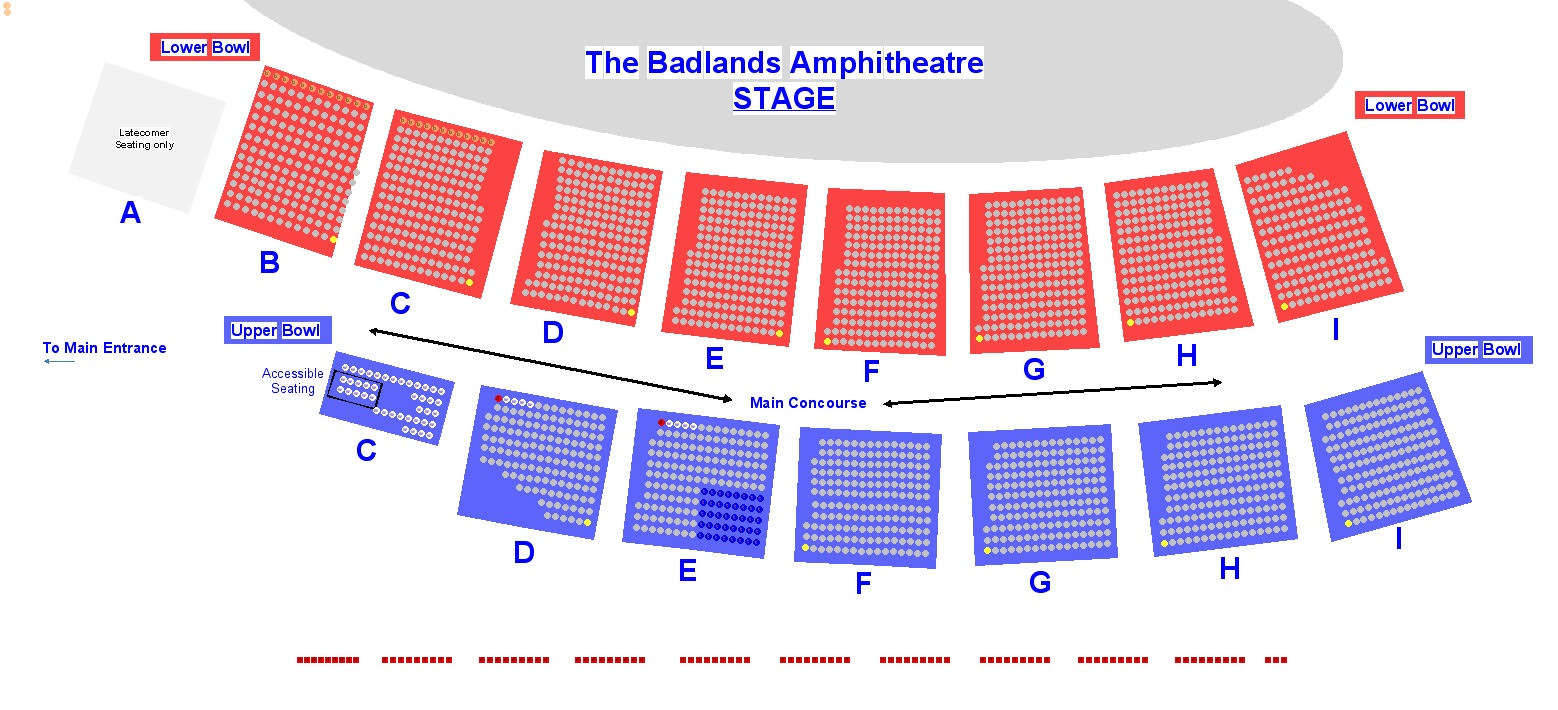 The Badlands Amphitheatre
Tickets for the Badlands Passion Play are divided into 2 levels – the Lower Bowl (Red) and the Upper Bowl (Blue). Every seat and section offers great views of the play. Where you choose to sit depends on your preference. Our Box Office can help you decide where to sit (403-823-2001) or you can choose your seat yourself by booking online.
Please note that there is a $5 ticket fee per ticket. Parking is $5 per vehicle in advance and $10 at the gate. Tickets are non-refundable. 
Seating & Pricing

 ADULT: 18 – 64  |  SENIOR: 65+  | YOUTH: 6– 17
(July 1, 2, 3/ July 8, 9, 10 / July 15, 16, 17)
Book online or by calling 403-823-2001.
Lower Section
(RED)

Upper Section
(BLUE)

Adult: $79

Adult: $69

Senior: $69

Senior: $59

Youth: $59

Youth: $49
Due to the sound sensitivity of our Amphitheatre, babies and children under 6 are not permitted to attend the Badlands Passion Play.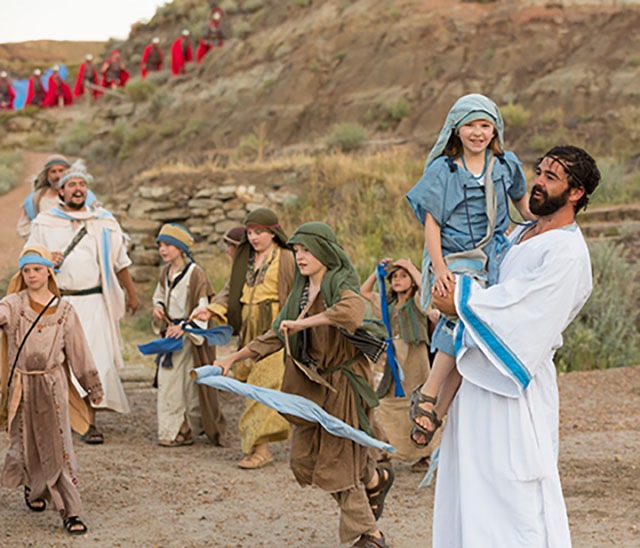 Description
For over 26 years, hundreds of thousands of audience members like you have experienced an epic story of faith, hope & love on Canada's largest outdoor stage. Over one hundred volunteer cast, professional actors, and crew present the life, death, and resurrection story of Christ in the Badlands Amphitheatre located just outside of Drumheller, Alberta. 
The Badlands Passion Play is a 3 hour outdoor performance (including a 30 minute intermission) 
Doors open one hour prior to the performance. Though your seat is assigned, please arrive early to enjoy services like the gift shop and concession. For best seats or a block of seats, reserve ahead.
Age Restriction
Due to the sound sensitivity of our Amphitheatre, babies and children under 6 are not permitted to attend the Passion Play
Accessible Seating
Special needs and accessible seating is available by calling the Box Office only and cannot be purchased online.
Payment
Tickets must be paid for at the time of booking. We accept cash, VISA, MasterCard and AMEX. Seats are assigned and tickets mailed to the purchaser when full payment is received. Prices include all applicable taxes. All sales are final—no refunds. This is an all-weather performance—check our rain policy below.
Service Fee
A service fee of $5 applies to each ticket.  Parking is $5 per vehicle in advance and $10 at the gate.
Group Discounts
Many groups (schools, clubs, colleges, tour companies, churches, family reunions) come to the Passion Play each year. Why not enjoy your special day with others?
We can design a group package that is just right for you. Groups must book over the phone (1-888-823-2001) or in person through our Box Office to receive their discount.
10+ people: 15% off the regular ticket price
25+ people: 20% off the regular ticket price
40+ people: 25% off the regular ticket price
Weather Policy
A performance is considered complete once Jesus has been sentenced by Pilate. In a storm, we do not use the crosses for the safety of our actors. As an outdoor production the Passion Play is performed in wet conditions, but there may be times when we need to pause the show for a short time to allow weather to pass. If it appears that dangerous conditions (lightning, wind, etc.) will develop, we will cancel the show and advise you to move to your vehicle. For the safety of all, please exit in a controlled manner.
If the show is cancelled before Jesus is sentenced by Pilate you have the following options:
Request ticket vouchers for another performance this season. Fill in the envelope in the center of your program and hand it to a parking attendant. We will contact you as soon as possible to accommodate your request. If we do not call then we have been unable to fit you into the current year and will get you tickets for next season.
Request ticket vouchers for a performance next season.
Donate the cost of your tickets to the Passion Play for a tax receipt.
If you choose the second or third option you may mail your envelope to us at a later date. If you choose to leave when the show is paused and the show does resume, you will not receive vouchers for another performance.
Refund Policy
All tickets to the Badlands Passion Play are final. We do not offer any refunds. However, a ticket to the play is never lost. If a performance is cancelled, your ticket will be good for another performance. Or if you would like, you can donate the cost of your ticket and you will receive a tax deductible receipt.