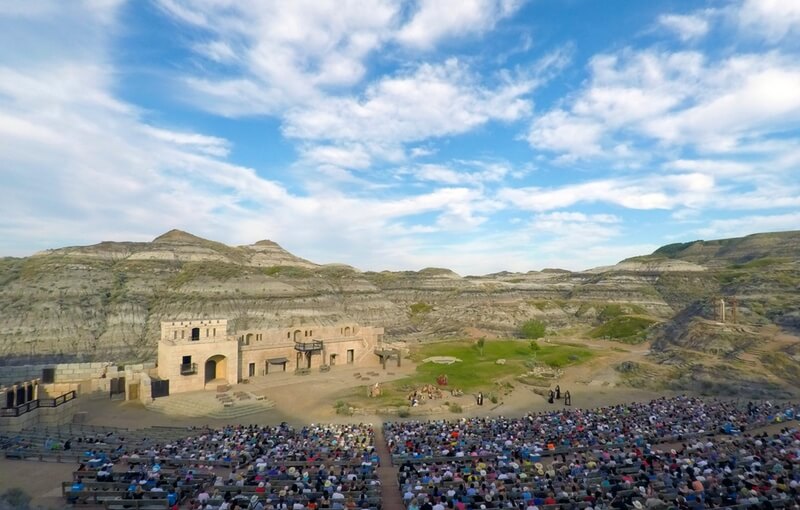 Experience an epic story of faith, hope, and love on Canada's outdoor stage.
Dates: 2018
FRIDAY: July 6 (SOLD OUT) / SATURDAY: July 7 / SUNDAY: July 8
FRIDAY: July 13 / SATURDAY: July 14 / SUNDAY: July 15
FRIDAY: July 20 / SATURDAY: July 21 / SUNDAY: July 22
Opera Classica Europa, Mercury Opera,  and The Badlands Amphitheatre present George Bizet's dramatic portrayal of Carmen. Set in Seville during the 1800s, Carmen, Bizet's most successful opera, with its exotic Spanish setting and sordid love triangle, introduced a style of realism in opera that changed the theatre forever. Carmen is one of the most beloved and often produced operas in the world.
Concerts are an incredible experience at the Badlands Amphitheatre. We have hosted Tom Cochrane, Blue Rodeo, Randy Bachman, Paul Brandt, The Rosebud Chamber Music Festival and others under our great big Alberta Sky. Join our newsletter to get all the news and special offers about our concerts before anyone else!
Date: AUGUST 25 – ARTISTS TBA
Each fall we host a movie under the stars for the whole family! Bring your blankets, purchase some hot chocolate and treats from our concession and enjoy a movie experience like no other.
CONCERT PRESALES, GIVEAWAYS, CONTESTS, AND SPECIAL DISCOUNTS AVAILABLE IN OUR ONLINE
BADLANDS AMP NEWSLETTER.
Join Our Email Newsletter